1-component installation foam B3 Summer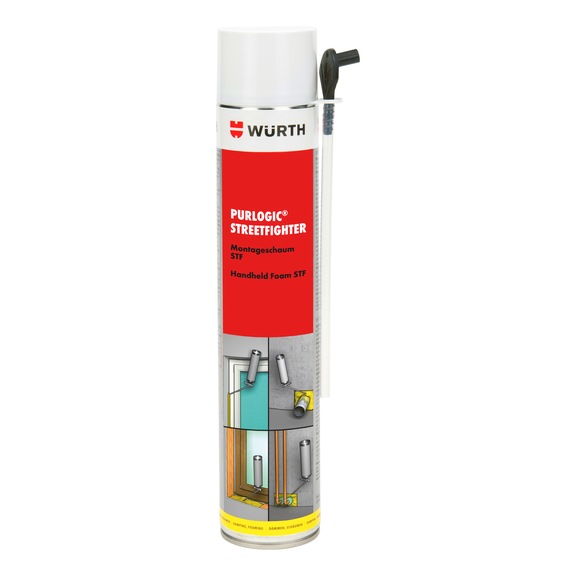 For detailed information, other images and documents, please select individual articles from the following table.
1-component installation foam B3 Summer
Universal installation foam filler
Show availability in Würth Portugal trade store
In order to check the stock in a Würth Portugal branch,
please log in
.
If you have any questions, please call our service hotline at +351 211 989 840.
You are not yet a Würth Portugal customer or do not yet have access data to the Online Shop? Then
register now
in just a few steps. After a successful check of the entered data, you will have immediate access to the stock inquiry as well as all prices and can immediately order.
Exclusively for trade customers
Register now and access more than 15,100 products
Call customer service: +351 211 989 840
Exclusively for trade customers
Register now and access more than 15,100 products
Call customer service: +351 211 989 840
Prices for customers after login
Excellent adhesion on nearly all structural substrates (apart from PE, PP, PTFE and silicone)


More effective noise and heat insulation than mineral wool, cork and fibreglass


Structural stability


No loss of volume and only slight expansion once hardened.


Rapid hardening


Fine-celled and uniform foam structure


Resistant to ageing


Resistant to a wide range of solvents, paints, and chemicals
Notice
Does not adhere to PE, PP, PTFE and silicone. Not UV-resistant.
The usage instructions are recommendations based on the tests we have conducted and our experience; carry out your own tests before each application. Due to the wide range of applications and of storage and usage conditions, we cannot guarantee a specific application result. Insofar as our free customer service provides technical information or acts as an advisory service, no liability is assumed in relation to the provision of this service except where the advice or information given falls within the scope of our specified, contractually agreed service or the advisor was acting deliberately. We guarantee the consistent quality of our products. We reserve the right to make technical changes and further develop products.
Application area
Safe insulation and filling of window joints, pipe ducts, joints, wall connections, wall openings and cavities e.g. wall openings, roof finishings, pipe ducts, roller shutter boxes, etc. Adheres to concrete, stone, hard PVC, metal and wood. Does not adhere to polyethylene, silicone, PTFE and grease.
Instructions
The surfaces must be clean, solid and free from dust and grease. Pre-treat highly absorbent surfaces. Adhesion surfaces must be moistened with water before the foam is applied.
Screw the enclosed adapter tube onto the valve and shake the can vigorously, with the valve facing downwards, approx. 30 times so that the contents of the can are well mixed and the foam quality is optimised. Only fill the joints or cavities to approx. 1/3 with foam because the foam will expand. Moisten again if several foam beads are applied. Immediately remove fresh foam splashes with PURLOGIC® Clean and foam residue already hardened with PURLOGIC® foam cleaner. Cut away excess, fully hardened foam with a knife.
Select RAL-colour code
!! NOTE: On-screen visualisation of the colour differs from real colour shade!!