Extreme A/C leakage sealant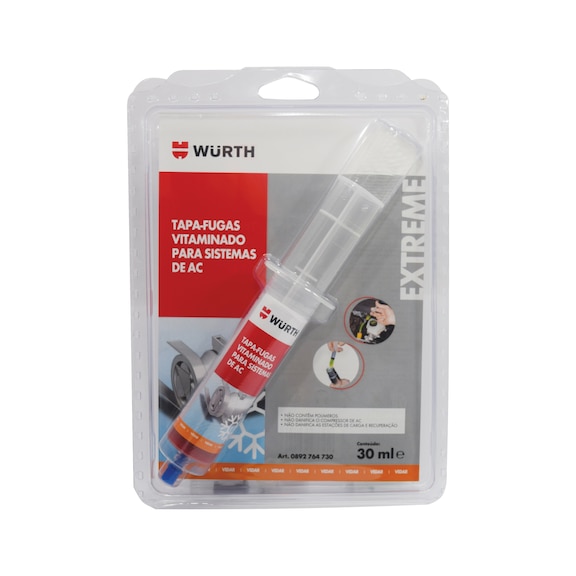 For detailed information, other images and documents, please select individual articles from the following table.
Extreme A/C leakage sealant
Leakage sealant for metal and rubber components of the A/C system. Increases the compressor's performance, improving the capacity and speed for cooling down the vehicle.
Show availability in Würth Portugal trade store
In order to check the stock in a Würth Portugal branch,
please log in
.
If you have any questions, please call our service hotline at +351 211 989 840.
You are not yet a Würth Portugal customer or do not yet have access data to the Online Shop? Then
register now
in just a few steps. After a successful check of the entered data, you will have immediate access to the stock inquiry as well as all prices and can immediately order.
Exclusively for trade customers
Register now and access more than 15,100 products
Call customer service: +351 211 989 840
Exclusively for trade customers
Register now and access more than 15,100 products
Call customer service: +351 211 989 840
Prices for customers after login
Stops leaks in metal and rubber components
Stops leaks permanently.


Avoids the costly and time-consuming work of disassembling and replacing A/C system components.


Dose (30ml) indicated for A/C systems with a maximum of 1 kg of gas.


Compatible with R-12 and R-134a gas.
Advantages
Improves A/C system lubrication.


Reduces friction and component wear, extending compressor life.


Reduces compressor operating noise.


Increases the car's cooling capacity and speed.
May remain in the system after application
No need to bleed the system after use.
Free from polymers
Suitable for use with A/C recovery equipment.


Does not damage the compressor or other components of the A/C system.
This information is intended to provide best practice advice, based on our knowledge and experience. However, we are unable to provide a comprehensive list of all potential outcomes, due to the numerous applications of the product. We recommend that you always test the compatibility of this product with the material first. We guarantee the quality of this product. We reserve the right to make technical alterations and improvements to the product.
Application area
Suitable for all types of A/C systems, including systems with R134a and R1234yf.
Instructions
1. Run the vacuum on the A/C system for 5 minutes until the vacuum value is at -1 bar.
2. Disconnect the vacuum pump and check if this state can be maintained for 4 minutes.
NOTE: If this state cannot be maintained, DO NOT USE THIS PRODUCT. The leak from the A/C system is too large and this product is not suitable.
3. Complete the vacuum operation on the A/C system.
4. Connect the vitaminised Extreme leakage sealant to the vehicle's A/C system low-pressure coupling using the special applicator.
5. Use all of the product on the system.
6. Fill the A/C system.
7. Turn on the A/C system at the highest speed.
8. Leave it running for at least 30 minutes.
Select RAL-colour code
!! NOTE: On-screen visualisation of the colour differs from real colour shade!!