Cleaning machine WIC 5000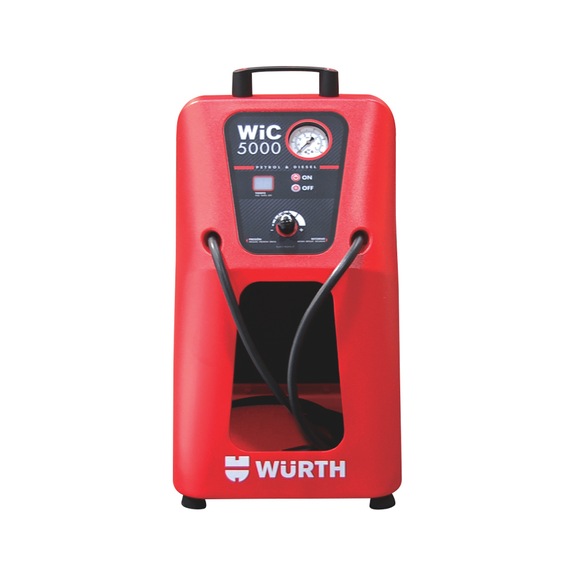 For detailed information, other images and documents, please select individual articles from the following table.
Cleaning machine WIC 5000
Cleaning of diesel and gasoline injection circuits for light- and heavy-duty vehicles.
Show availability in Würth Portugal trade store
In order to check the stock in a Würth Portugal branch,
please log in
.
If you have any questions, please call our service hotline at +351 211 989 840.
You are not yet a Würth Portugal customer or do not yet have access data to the Online Shop? Then
register now
in just a few steps. After a successful check of the entered data, you will have immediate access to the stock inquiry as well as all prices and can immediately order.
Exclusively for trade customers
Register now and access more than 15,100 products
Call customer service: +351 211 989 840
Exclusively for trade customers
Register now and access more than 15,100 products
Call customer service: +351 211 989 840
Prices for customers after login
Simple and effective cleaning of all types of injection systems
Can be applied to all types of light- and heavy-duty vehicles


Fuel and cleaning additive dosed in the ratio required for cleaning the circuit to ensure results and avoid waste


Simple to use; just switch it on, adjust the pressure and let it do its work


Safe for catalytic converters and particle filters


Helps the customers to avoid time-consuming and high-cost disassembly
Distinct and cost effective
Provides a distinct and cost-effective service without the need for specialised technicians and/or expensive training


Ideal pre-IPO service
Key gains from application
Reduces consumption and emissions of gases


Reduces engine noise


Improves smoothness of running engine


Improves cold start


Increases injector service life


Optimises fuel spray in the combustion chamber


Reduces injection jet deviations


Reduces the formation of carbon in the inlet valves


Marginal power increase
Modern electronic management and control system
Intuitive


With working time indicator and acoustic reminder
100 % safe for vehicles and users
Precise pressure control


Protection against polarity reversal


Automatic stop system in case of insufficient or excessive pressure, filter blockage, accidental hose disconnection and service termination
Optimised dimensions for workshop work
Lightweight and easy to transport


Closed chassis and compact structure for enhanced strength


Storage compartment for hoses and adapters
Diagnostic function
Fuel pump check valve test


Fuel pump flow pressure test


Injection system pressure control


Injection system leak detection


Pressure regulator open test
1 Year Warranty
on issues of material and production
Application area
Atmospheric carburettor with or without turbo


Electronic and manual single point or multi-point petrol injection


PDI petrol injection


Conventional and high-pressure diesel injection: TDI, DTI, JTD, HDI, UIS, CDI, TDCI, CRDI, DCI, CTDI, D4D, TSI and FSI
Select RAL-colour code
!! NOTE: On-screen visualisation of the colour differs from real colour shade!!