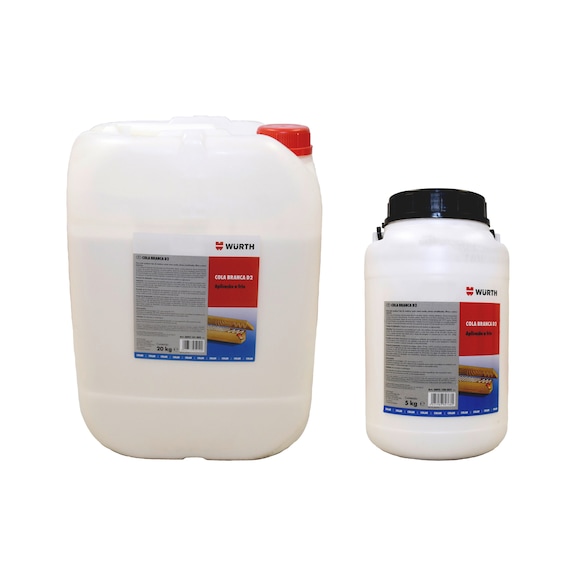 For detailed information, other images and documents, please select individual articles from the following table.
For bonding all types of wood, chipboard, plywood, etc.
Show availability in Würth Portugal trade store
In order to check the stock in a Würth Portugal branch,
please log in
.
If you have any questions, please call our service hotline at +351 211 989 840.
You are not yet a Würth Portugal customer or do not yet have access data to the Online Shop? Then
register now
in just a few steps. After a successful check of the entered data, you will have immediate access to the stock inquiry as well as all prices and can immediately order.
Exclusively for trade customers
Register now and access more than 15,100 products
Call customer service: +351 211 989 840
Exclusively for trade customers
Register now and access more than 15,100 products
Call customer service: +351 211 989 840
Prices for customers after login
Excellent transparency
Once dry, the adhesive is transparent, thus preventing the bonded seal from being visible.
Durable bonding
Once the adhesive dries, the bonded joints are resistant and durable, without damaging tools.
High temperature resistance
Once dried and hardened, the adhesive resists temperatures from -18ºC to +100ºC.
Resistant to sudden variations
The glue remains unalterable in enclosed spaces with sudden-but-brief changes in humidity and occasional exposure to water.
Approved
Corresponds to group D2 according to EN 204.
Notice
Wet glue can be easily cleaned with water. Avoid contact with metals. Dry glue can be dissolved with (warm) water. In the event of major difficulties, an organic solvent such as toluenol, acetone, etc. may be used.
This information is a recommendation only, based on our experience. However, we cannot accept responsibility for individual results with this product, due to its numerous potential applications, and storage and application conditions that are beyond our control. We always recommend that you test the product first. We guarantee the quality of our products. We reserve the right to make technical alterations and developments.
Instructions
Surfaces to be bonded should be clean, dry and free from grease. The wood to be bonded must be between 8% and 12% humidity. The adhesive must be applied to one surface using a brush, toothed spatula, roller, manual or pneumatic applicator. The parts must be clamped together during the bonding period. The bonding time varies depending on the type of wood, the amount of adhesive applied, temperature conditions and humidity. If a film forms on the surface, remove and re-apply.
Select RAL-colour code
!! NOTE: On-screen visualisation of the colour differs from real colour shade!!