Diamond cutting disc Super fine EVO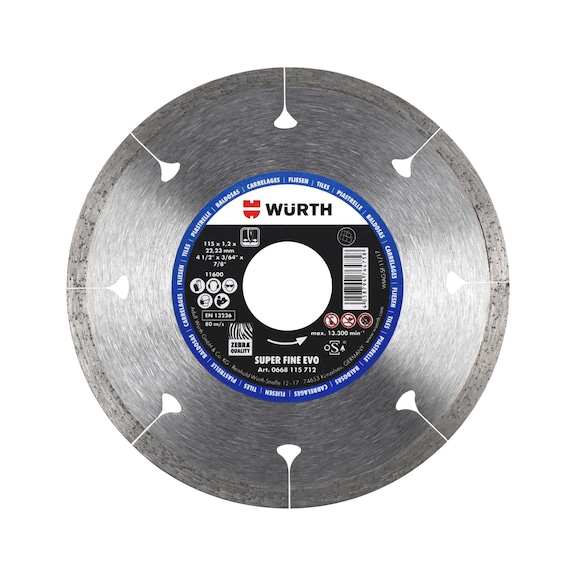 For detailed information, other images and documents, please select individual articles from the following table.
Diamond cutting disc Super fine EVO
Diamond cutting disc for dry cutting, for precision cuts with very hard materials.
Show availability in Würth Portugal trade store
In order to check the stock in a Würth Portugal branch,
please log in
.
If you have any questions, please call our service hotline at +351 211 989 840.
You are not yet a Würth Portugal customer or do not yet have access data to the Online Shop? Then
register now
in just a few steps. After a successful check of the entered data, you will have immediate access to the stock inquiry as well as all prices and can immediately order.
Exclusively for trade customers
Register now and access more than 15,100 products
Call customer service: +351 211 989 840

Exclusively for trade customers
Register now and access more than 15,100 products
Call customer service: +351 211 989 840
Prices for customers after login
Diamond cutting wheel specially developed for cutting hard materials.


High cutting performance thanks to high diamond quality.


Cutting thickness of 1.2 mm, specially designed for precision cutting.


Less dust produced.


Reduced load on the machine.


Ideal for ceramic and porcelain


Optimised cutting performance.


Blade core hardened, tensioned and balanced to ensure precise cutting, even in the most demanding of applications.


OSA safety approval.
Advantages
Outstanding finish.


Fine and accurate cutting without splintering.


Less vibration thanks to closed cutting edge.


Increased comfort during use.


High cutting speed compared to conventional discs.
Application area
Stoneware, tiles, glazed tiles, ceramic tiles, mortar, travertine, granite, refractory bricks, hard natural stone, slate, ceramic tile, Ferrogres etc.
Instructions
Tips for correct use of the diamond disc:
Observe the information on the label (max. speed!), restrictions of use and safety instructions


Work without applying pressure — the weight of the machine is sufficient. Increased pressure causes increased wear.


The direction arrow on the disc must match the machine's direction of rotation.


Diamond cutting discs are designed for straight cutting. Cutting curves deforms the blade and results in core cracks and segment tear-offs — risk of injury!


During work (particularly when working with stone and hard stone), it is vital to interrupt cutting and allow the disc to idle for a few seconds so that it can cool down and a better result can be achieved.


These simple tips will extend the service life of the disc.
Select RAL-colour code
!! NOTE: On-screen visualisation of the colour differs from real colour shade!!