Electrode manual welding inverter ESI 200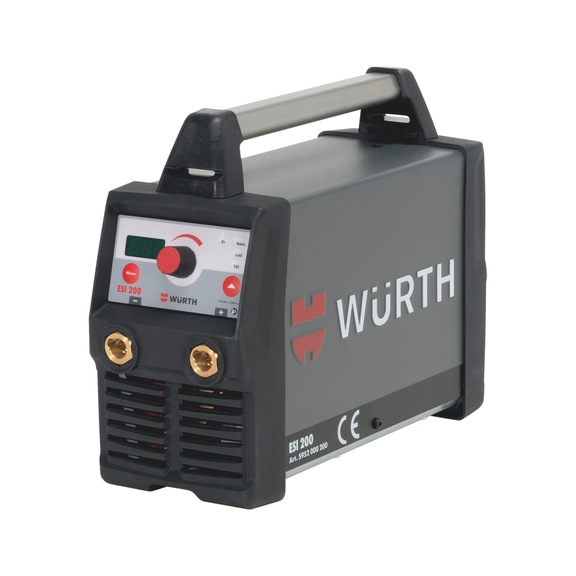 For detailed information, other images and documents, please select individual articles from the following table.
Electrode manual welding inverter ESI 200
Small, powerful electrode welding inverter for all power jobs
Show availability in Würth Portugal trade store
In order to check the stock in a Würth Portugal branch,
please log in
.
If you have any questions, please call our service hotline at +351 211 989 840.
You are not yet a Würth Portugal customer or do not yet have access data to the Online Shop? Then
register now
in just a few steps. After a successful check of the entered data, you will have immediate access to the stock inquiry as well as all prices and can immediately order.
Exclusively for trade customers
Register now and access more than 15,100 products
Call customer service: +351 211 989 840
Exclusively for trade customers
Register now and access more than 15,100 products
Call customer service: +351 211 989 840
Prices for customers after login
Welding of all electrodes possible
MicorBoost technology facilitates the welding of all electrodes, including cellulose. Simple switching to electrode types.
Robust
80 cm drop safety (in line with standard, min. 25 cm)
Switchable
Can be switched to TIG welding with ContacTIG ignition
Smooth and uniform arc
Arc force regulation
No sticking of electrodes
Anti-stick system
Outstanding ignition
Hot start
Flexible
Power supply (400 V) or generator - optimal welding properties, including with long wires or in the case of mains voltage fluctuations.
Light and compact
5.5 kg at 200 A (30% switch-on time)
Optimal for assembly application
IP23 and S sign
Notice
Arc force: Increases the arc voltage in critical situations. Prevents slag from running into the molten bath and extinguishing the arc. As a result, even difficult-to-weld electrodes can be processed.


Hot Start: Ensures reliable ignition of the electrode. The hot start energy is automatically adjusted to the selected welding current.


Anti-stick: Prevents the electrode from sticking to the work piece by automatically reducing the current. As a result, the electrode does not glow out and evaporation of alloy elements is prevented.
Spare part documentation in accordance with (EU) 2019/1784 – Requirements for the ecological design of welding systems. The relevant documentation is stored in the Würth Parts Manager (https://pm.wuerth.com/index.php). For further questions, please contact the appropriate sales representative or product and application.
Marking: CE, S
2 Years Warranty on manufacturing and material defects
Excluded are damages caused by improper use, overloading or failure to observe the operating instructions.
Application area
TIG welding
Suitable gas 100% argon
Select RAL-colour code
!! NOTE: On-screen visualisation of the colour differs from real colour shade!!