Surface protection coating RECULASTIC® TOP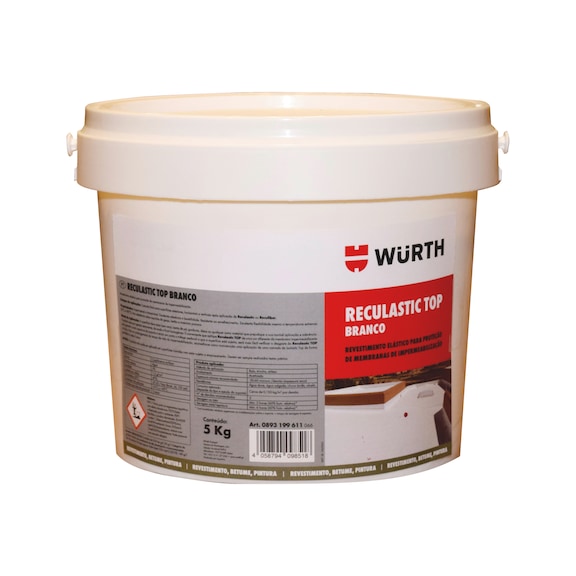 For detailed information, other images and documents, please select individual articles from the following table.
Surface protection coating RECULASTIC® TOP
Elastic coating for protection of waterproofing membranes.
Show availability in Würth Portugal trade store
In order to check the stock in a Würth Portugal branch,
please log in
.
If you have any questions, please call our service hotline at +351 211 989 840.
You are not yet a Würth Portugal customer or do not yet have access data to the Online Shop? Then
register now
in just a few steps. After a successful check of the entered data, you will have immediate access to the stock inquiry as well as all prices and can immediately order.
Exclusively for trade customers
Register now and access more than 15,100 products
Call customer service: +351 211 989 840
Exclusively for trade customers
Register now and access more than 15,100 products
Call customer service: +351 211 989 840
Prices for customers after login
Properties:
Waterproof and breathable.


Excellent bonding and washability.


Resistant to ageing.


Excellent flexibility even at extreme temperatures (0ºC to +80ºC).


Good adhesion on plaster, concrete and porous materials.
Notice
Prior tests must always be carried out on each work to determine the adhesion and behaviour of the product. The product cannot be applied to damp surfaces or subject to settling.
Depending on the condition of the support. About 0.150 kg/m2 per coat.
This information is intended to provide the best practice advice possible, based on our knowledge and experience. We cannot assume any liability for individual applications due to the variety of applications and storage and application conditions that are beyond our control. This also applies when using the free technical and sales customer support we provide. We always recommend that you test the product first. We guarantee the consistent quality of our products. We reserve the right to make technical alterations and improvements. See the product data sheet for more information.
Application area
Final coat for exterior, horizontal and vertical surfaces after application of Reculastic® or Recufiber®.
Instructions
The surface must be properly dry, free from dust, grease, oil or any other material that could affect its normal application and adhesion. The product must be shaken slowly until it becomes homogeneous. We recommend applying Reculastic® Top of a different colour to the waterproofing membrane. This will ensure full coverage of the support and, taking into account the foot traffic to which the surface will be subjected, it will be easier to check for future wear of the Reculastic® Top. In order to prolong the life of the waterproofing, it is recommended to apply a layer of Reculastic® Top periodically every five years as maintenance.
Select RAL-colour code
!! NOTE: On-screen visualisation of the colour differs from real colour shade!!