DP 300 engine and housing sealing compound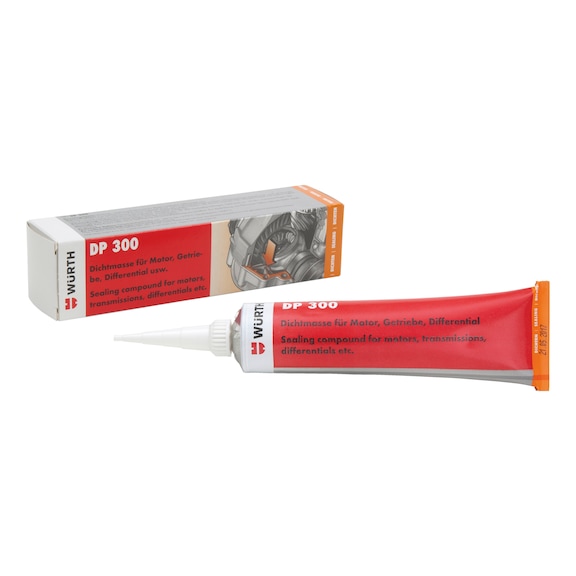 For detailed information, other images and documents, please select individual articles from the following table.
DP 300 engine and housing sealing compound
Permanently plastic engine and housing sealing compounds with high degree of temperature resistance
Show availability in Würth Portugal trade store
In order to check the stock in a Würth Portugal branch,
please log in
.
If you have any questions, please call our service hotline at +351 211 989 840.
You are not yet a Würth Portugal customer or do not yet have access data to the Online Shop? Then
register now
in just a few steps. After a successful check of the entered data, you will have immediate access to the stock inquiry as well as all prices and can immediately order.
Exclusively for trade customers
Register now and access more than 15,100 products
Call customer service: +351 211 989 840

Exclusively for trade customers
Register now and access more than 15,100 products
Call customer service: +351 211 989 840
Prices for customers after login
Excellent sealing ability thanks to permanently plastic (non-hardening) properties


Resistance to vibration guaranteed even after years of exposure


No pulling of threads during application


Does not run on vertical or downward-sloping surfaces


Temperature-resistant from -50°C to +270°C; for brief periods up to +300°C


Poor thermal conductivity


Does not bond to metals or other materials chemically, prevents atmospheric corrosion


Resistant to water, air, gasoline, kerosene, a variety of oils, synthetic lubricants, water/glycol and methanol mixtures, anti-freeze, fluorocarbon cooling agents


Silicone-free


Non-toxic
Notice
Cannot be used to replace a solid seal, used only in conjunction. Not suitable for sealing oil pans.
NSF registered, class P1, reg. no. 151822
The usage instructions are recommendations based on the tests we have conducted and our experience; carry out your own tests before each application. Due to the large number of applications and storage and processing conditions, we do not assume any liability for a specific application result. Insofar as our free customer service provides technical information or acts as an advisory service, no responsibility is assumed by this service except where the advice or information given falls within the scope of our specified, contractually agreed service or the advisor was acting deliberately. We guarantee consistent quality of our products. We reserve the right to make technical changes and further develop products.
Application area
For sealing engines and housings e.g. in the automotive and motorcycle industry, tractor construction, electrical industry, turbine and nuclear power plants, mechanical engineering, gear construction, food industry, gas, water, electricity plants, pump construction, mining etc. Due to its excellent thermal, mechanical and chemical resistance, DP 300 is particularly suitable for demanding and critical sealing connections. Approved by almost all well-known automotive manufacturers as well as by the Federal Office for Defence Technology and Procurement.
Instructions
The surfaces must be clean, dry and free from grease. For more information, please refer to the technical data sheet.
Select RAL-colour code
!! NOTE: On-screen visualisation of the colour differs from real colour shade!!