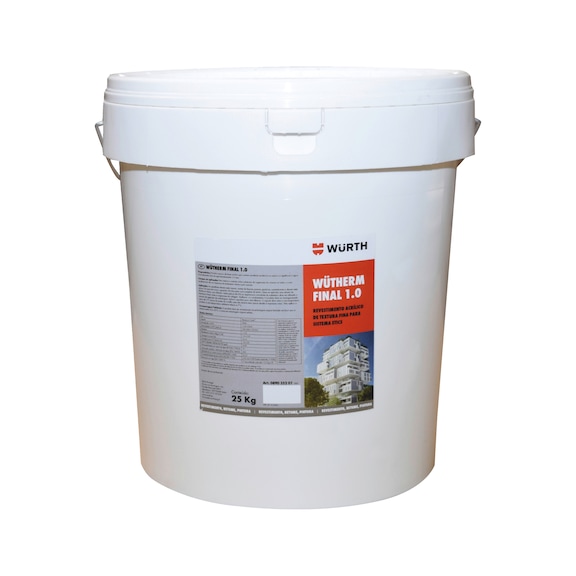 For detailed information, other images and documents, please select individual articles from the following table.
Thin or medium-textured acrylic coating for ETICS system
Show availability in Würth Portugal trade store
In order to check the stock in a Würth Portugal branch,
please log in
.
If you have any questions, please call our service hotline at +351 211 989 840.
You are not yet a Würth Portugal customer or do not yet have access data to the Online Shop? Then
register now
in just a few steps. After a successful check of the entered data, you will have immediate access to the stock inquiry as well as all prices and can immediately order.
Exclusively for trade customers
Register now and access more than 15,100 products
Call customer service: +351 211 989 840
Exclusively for trade customers
Register now and access more than 15,100 products
Call customer service: +351 211 989 840
Prices for customers after login
Properties
An acrylic-based aqueous product that provides excellent outdoor resistance and water repellency. Fine particle size of approximately 1.0 mm and mean of approximately 1.5 mm.
Notice
Colours may be requested by special order, for any colour of the NCS catalogue. Colours are produced in colour-tuning systems, so they may vary. Prior testing is advised. The application of strong colours with absorption coefficient >0.7 is not advised since it can lead to cracking and consequent infiltration.
This information is a recommendation only, based on our experience. However, we cannot accept responsibility for individual results with this product, due to its numerous potential applications, and storage and application conditions that are beyond our control. We always recommend that you test the product first. We guarantee the quality of our products. We reserve the right to make technical alterations and developments.
Application area
For indoor and outdoor use on cement mortar or concrete substrates and as a finishing for an exterior thermal insulation plan.
Instructions
Surfaces should be cohesive, free from cracks, dust, grease and contaminants and should be dry. On new supports, wait 28 days for the concrete to completely cure. A coat of Wutherm Primer must be applied, undiluted. On EPS panels or cement insulating mortar, Wutherm Primer should be used between the bonding mortar (Koltherm) and the finish. The product must be homogenised by shaking the packaging. Apply the product pure, without dilution. The support should be at a temperature of around 5ºC above the dew point but should not be hot due to sun exposure. Do not apply the product at an ambient temperature below 7ºC.
Select RAL-colour code
!! NOTE: On-screen visualisation of the colour differs from real colour shade!!