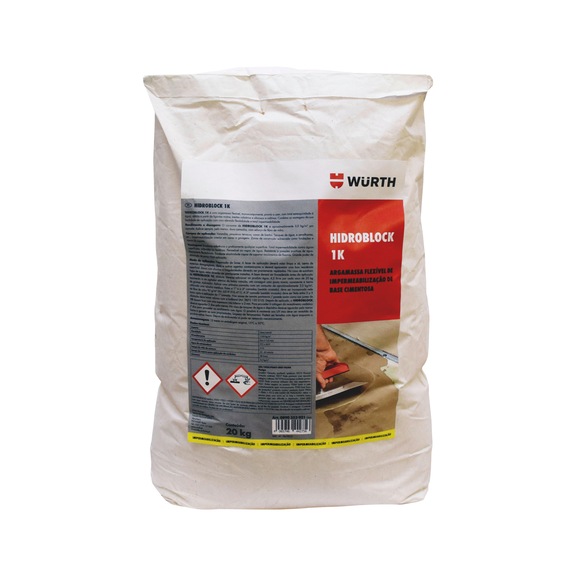 For detailed information, other images and documents, please select individual articles from the following table.
Waterproofing mortar for floors, interior and exterior walls
Show availability in Würth Portugal trade store
In order to check the stock in a Würth Portugal branch,
please log in
.
If you have any questions, please call our service hotline at +351 211 989 840.
You are not yet a Würth Portugal customer or do not yet have access data to the Online Shop? Then
register now
in just a few steps. After a successful check of the entered data, you will have immediate access to the stock inquiry as well as all prices and can immediately order.
Exclusively for trade customers
Register now and access more than 15,100 products
Call customer service: +351 211 989 840
Exclusively for trade customers
Register now and access more than 15,100 products
Call customer service: +351 211 989 840
Prices for customers after login
One-component, flexible, cement-based mortar with total watertightness, obtained from mixed binders, calcareous and siliceous inert materials and additives


Adheres to any type of cement surface (cement render, concrete)


Also applicable on ceramic or stone, except in swimming pools or ponds


Final finish coated in order to guarantee its protection and durability (especially in passable areas)
Notice
Do not apply over bituminous coatings. Pre-moisten the support to be coated when it is very hot. After application, care must be taken to protect the waterproofing for at least the first 24 to 48 hours. The mixer water should not contain any impurities (clay, organic matter) and should preferably be potable. Do not apply product that has started to set or softened compounds. Do not add any other products to the mortar, applying the product as presented in its original packaging and prepared according to the respective recommendations.
Application area
Waterproofing balconies, bathrooms and underground buildings (basement walls and foundations).
Instructions
The support must be regular, clean and free from grease. Application only after complete removal of dust, efflorescence, release agents, splatter and rust. Absorbent surfaces must be pre-moistened with water. Proceed with the treatment of singular points, such as expansion joints and finishing areas where the floor meets the wall with IsolBand (5875120010) - waterproofing reinforcement. Mix mechanically, with 4.2 litres of water per 20 kg bag, with an electric mixer at low speed, until a smooth, consistent and lump-free paste is obtained. Use a metal trowel to apply in two layers with the addition of fibreglass mesh with anti-alkaline treatment (90 gr/m²). Apply the first layer of Hidroblock 1K and place the mesh over this layer while it is still fresh. Once it hardens (around 3 to 5 hours) apply a second cross coat. The mesh must always be between two layers of product and never directly on the support. Hidroblock 1K can also be applied by roller or brush. At least three coats must be applied in this case. The final thickness must be at least 2 mm. Leave for 2 days before proceeding to bond the ceramic tile. For other situations not mentioned in this technical document, we recommend contacting our technical services in advance.
Select RAL-colour code
!! NOTE: On-screen visualisation of the colour differs from real colour shade!!