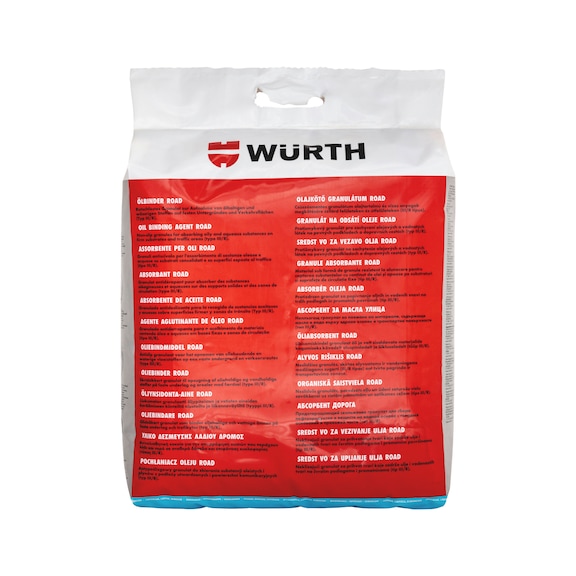 The images are examples. For detailed information, other images and documents, please select individual articles from the following table.
Non-slip granulate for mopping up oily and aqueous substances on solid substrates and road surfaces
Show availability in Würth Portugal trade store
In order to check the stock in a Würth Portugal branch,
please log in
.
If you have any questions, please call our service hotline at +351 211 989 840.
You are not yet a Würth Portugal customer or do not yet have access data to the Online Shop? Then
register now
in just a few steps. After a successful check of the entered data, you will have immediate access to the stock inquiry as well as all prices and can immediately order.
Exclusively for trade customers
Register now and access more than 15,100 products
Call customer service: +351 211 989 840
Exclusively for trade customers
Register now and access more than 15,100 products
Call customer service: +351 211 989 840
Prices for customers after login
Highly absorbent, quick-acting
Less material is used, which means reduced disposal costs


1 kg of oil binder granulate binds approx. 1.01 litres of oil (Westinghouse)


The fine capillary system of the granulate encapsulates the absorbed material and does not release it again
Universal use
Suitable for all liquids, including leaks of acids, alkalis, AdBlue and water


Suitable for indoor and outdoor use
Extremely simple handling
Granules remain hard even after absorbing liquids


Low-dust, does not silt up and is easy to sweep up


Optimum loose weight; granules stay on the application site
Non-slip
No risk of slipping on the granules when walking or driving on them


SRT (German road slip test) figure of 0% is crucial with regard to the risk that should not be underestimated in a workshop or on road surfaces on which leaking oils can cause a dangerously smooth surface.
German road slip test
The North Rhine-Westphalia materials testing office accepts absorbers with an SRT figure of up to 20% in its testing system.
Oil absorber type III/R
Oil binder for special requirements on solid surfaces and road surfaces; also suitable for trade and industry. This binder type must not be waterproof or be able to float.
Notice
Disposal takes place in accordance with the applicable specifications for the respective liquid either using a waste disposal site or an incinerator. Not suitable for hydrofluoric acid!
The usage instructions are recommendations based on the tests we have conducted and our experience; carry out your own tests before each application. Due to the large number of applications and storage and processing conditions, we do not assume any liability for a specific application result. Insofar as our free customer service provides technical information or acts as an advisory service, no responsibility is assumed by this service except where the advice or information given falls within the scope of our specified, contractually agreed service or the advisor was acting deliberately. We guarantee consistent quality of our products. We reserve the right to make technical changes and further develop products.
Application area
Micro Absorber binds all types of liquid on any solid surface. Its fine grain penetrates small cracks and indentations. Optimum non-slip capacity is achieved even when the granules are completely saturated. Micro Absorber is highly suited for absorption tasks that require a great deal of contact with the surface and quick absorption, e.g. on road surfaces as well as workshop floors on which rapid absorption and cleaning are often crucial.
Instructions
Micro Absorber can be used as a preventative measure or in the event of damage and is easy to spread and pick up again. Liquids are absorbed effectively and encapsulated; the surface is left clean and dry.
Select RAL-colour code
!! NOTE: On-screen visualisation of the colour differs from real colour shade!!