Primer for painting PRIMERTOOL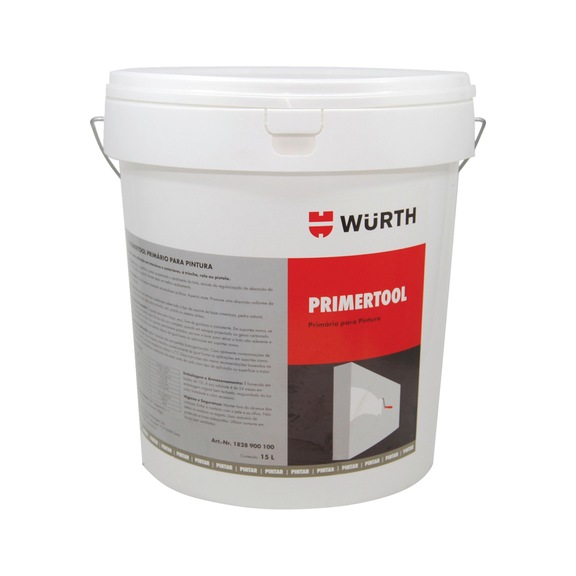 For detailed information, other images and documents, please select individual articles from the following table.
Primer for painting PRIMERTOOL
Primer for indoor and outdoor application using a brush, roller or gun.
Show availability in Würth Portugal trade store
In order to check the stock in a Würth Portugal branch,
please log in
.
If you have any questions, please call our service hotline at +351 211 989 840.
You are not yet a Würth Portugal customer or do not yet have access data to the Online Shop? Then
register now
in just a few steps. After a successful check of the entered data, you will have immediate access to the stock inquiry as well as all prices and can immediately order.
Exclusively for trade customers
Register now and access more than 15,100 products
Call customer service: +351 211 989 840
Exclusively for trade customers
Register now and access more than 15,100 products
Call customer service: +351 211 989 840
Prices for customers after login
Advantages
Insulates the surface to be painted by regularising surface absorption, increasing paint performance


Do not vitrify the surface


Allows for a better finish
Properties
Aqueous, acrylic emulsion-based primer


Matt appearance


Promotes uniform absorption of the paint or membrane
This information is a recommendation only, based on our experience. However, we cannot accept responsibility for individual results with this product, due to its numerous potential applications, and storage and application conditions that are beyond our control. We always recommend that you test the product first. We guarantee the quality of our products. We reserve the right to make technical alterations and developments.
Application area
For indoor and outdoor application on all types of cement-based surface, natural stone, gypsum or dry walling. Apply using a brush, roller, gun or airless system.
Instructions
The surface should be kept clean, dry, grease-free and consistent. On new and cement surfaces, apply one coat after a complete curing period of 28 days. When used on spray plaster or dry walling, apply once the surface is dry to the touch. On pre-painted surfaces, brush and wash to remove any non-adherent paint and repair the damaged areas, then proceed to apply equal coats onto new surfaces.
Shake the product until a perfect consistency is obtained. If the product is contaminated by fungi or algae, clean and treat it in the same manner as with applications on new surfaces. Do not apply the product at temperatures below 7°C.
Select RAL-colour code
!! NOTE: On-screen visualisation of the colour differs from real colour shade!!