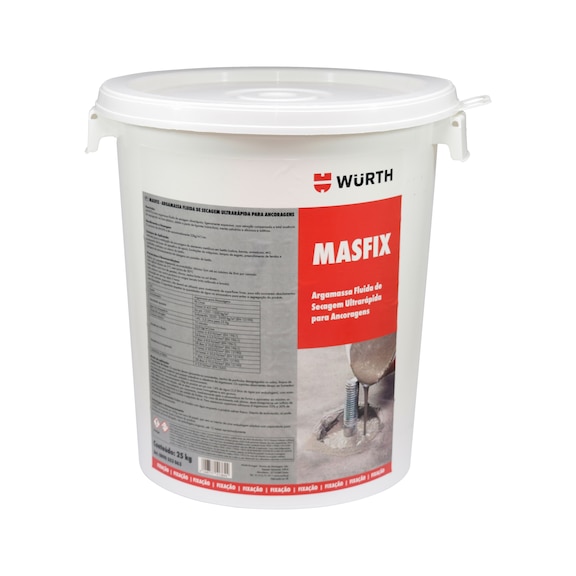 For detailed information, other images and documents, please select individual articles from the following table.
Ultra-fast drying, fluid mortar for anchorages.
Show availability in Würth Portugal trade store
In order to check the stock in a Würth Portugal branch,
please log in
.
If you have any questions, please call our service hotline at +351 211 989 840.
You are not yet a Würth Portugal customer or do not yet have access data to the Online Shop? Then
register now
in just a few steps. After a successful check of the entered data, you will have immediate access to the stock inquiry as well as all prices and can immediately order.
Exclusively for trade customers
Register now and access more than 15,100 products
Call customer service: +351 211 989 840
Exclusively for trade customers
Register now and access more than 15,100 products
Call customer service: +351 211 989 840
Prices for customers after login
Dry pre-mix made of hydraulic binders, limestone and siliceous aggregates, for easy handling and optimisation of the resistance and anchoring characteristics.
Properties
Ultra-fast with compensated retraction


No segregation in the plastic phase


For indoor and outdoor use
Precautions and recommendations
Do not apply below 5ºC or above 30ºC


Do not apply when there is a risk of frost, rain, strong winds or direct sun


Do not mix with other products or fillers (except calibrated and washed gravel)


Do not apply product that has started to set or softened compounds


Recommended thickness: minimum 3 cm and maximum 8 cm


Service-ready in 2 hours


It is important to respect the water quantities in the mixer to prevent the product from splitting, high shrinkage and reduced resistance


Due to its expansive nature, it should not be used for levelling free surfaces so as to prevent bubbles or cracks from occurring
Application area
Suitable for anchoring metal elements in concrete (cables, bars, reinforcements etc.). Filling of support equipment bases, machine foundations, sewage covers, filling of cracks and confined cavities inside the concrete. Sealing of pipe pass-throughs in concrete walls.
Instructions
The supports must be dry, prepared, clean and degreased. Dust, efflorescence, release agents and rust must be removed. Absorbent supports must be previously wetted until saturated, avoiding soaking. Mechanically mix 25 kg of the powder product with 14% water (3.5 litres of water per package), with a low-speed electric mixer, until a smooth, lump-free paste is obtained. Pour in the MASFIX immediately after the mortar in order to make the most of its expansive properties and its fluidity. In the case of filling under plates, an inlet and outlet opening must be ensured to facilitate the expulsion of the air.
Select RAL-colour code
!! NOTE: On-screen visualisation of the colour differs from real colour shade!!