Repair and filling system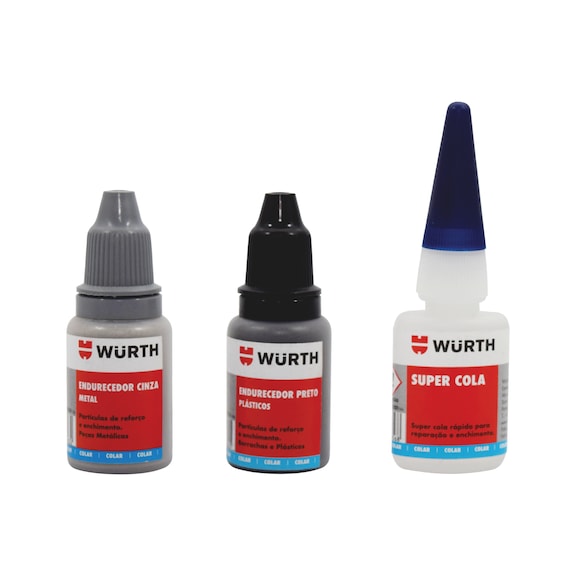 For detailed information, other images and documents, please select individual articles from the following table.
Repair and filling system
Instant bonding with reinforcement hardeners and filler for plastic and metal.
Show availability in Würth Portugal trade store
In order to check the stock in a Würth Portugal branch,
please log in
.
If you have any questions, please call our service hotline at +351 211 989 840.
You are not yet a Würth Portugal customer or do not yet have access data to the Online Shop? Then
register now
in just a few steps. After a successful check of the entered data, you will have immediate access to the stock inquiry as well as all prices and can immediately order.
Exclusively for trade customers
Register now and access more than 15,100 products
Call customer service: +351 211 989 840
Exclusively for trade customers
Register now and access more than 15,100 products
Call customer service: +351 211 989 840
Prices for customers after login
Fast and safe repair
Bonding and repair of most plastic and metal materials in seconds.
Highly efficient
For most quick-repair needs.
Bonding with hardener
The superglue is used in conjunction with the grey hardener for metal or black for plastic.
Good resistance
The reinforcement particles of the hardener allow for a safe and durable repair.
Can be sanded and painted once dry
Resistant to fuels, oils, water, battery acid and hydraulic fluids
Notice
Wear protective gloves, goggles and mask. To remove cyanoacrylate when still not dry, use the adhesive remover, Art. No. 0893099220
This information is a recommendation only, based on our experience. However, we cannot accept responsibility for individual results with this product, due to its numerous potential applications, and storage and application conditions that are beyond our control. We always recommend that you test the product first. We guarantee the quality of our products. We reserve the right to make technical alterations and developments.
Application area
Suitable for repairs in cars, industrial vehicles, industrial maintenance, construction, metal industry, installers and carpentry. Can be used in rubber, plastics (except PE and PP), carbon fibre, fibreglass, wood, aluminium, magnesium, copper and on most surfaces.
Instructions
1. Sand the surfaces before bonding.
2. Clean and degrease using the IPA CLEANER, Art. no. 0893223500or another degreaser, such as mounting cleaner, Art. no. 0890107.
3. Apply the hardener (black for plastics and grey for metals) to the area to be repaired and then add a few drops of superglue.
For large cracks, apply thin coats until completely filled in order to allow the superglue/hardener to cure fully. For through holes, insert a piece of cellulose paper into the interior and apply a few drops of superglue. When the paper is hard, add the hardener and then the superglue to cover the crack. For bonding separate parts, make a chamfer on both parts and fill in.
Select RAL-colour code
!! NOTE: On-screen visualisation of the colour differs from real colour shade!!