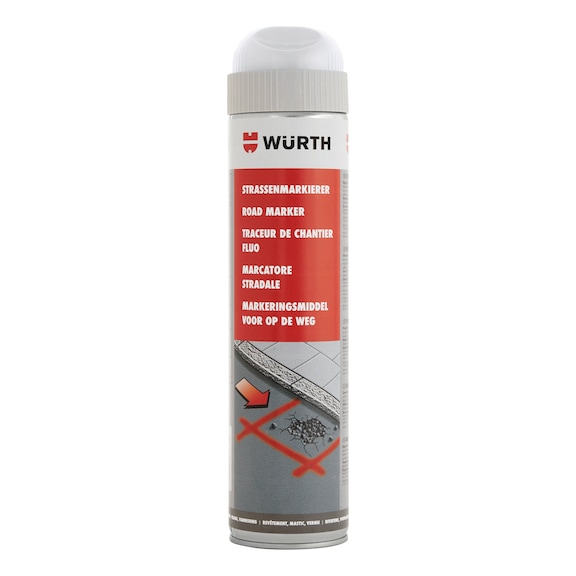 For detailed information, other images and documents, please select individual articles from the following table.
Marking spray with safety closure for highlighting road damage and construction sites
Show availability in Würth Portugal trade store
In order to check the stock in a Würth Portugal branch,
please log in
.
If you have any questions, please call our service hotline at +351 211 989 840.
You are not yet a Würth Portugal customer or do not yet have access data to the Online Shop? Then
register now
in just a few steps. After a successful check of the entered data, you will have immediate access to the stock inquiry as well as all prices and can immediately order.
Exclusively for trade customers
Register now and access more than 15,100 products
Call customer service: +351 211 989 840
Exclusively for trade customers
Register now and access more than 15,100 products
Call customer service: +351 211 989 840
Prices for customers after login
Safety cap for clean application
The colour cannot accidentally escape


Fingers are protected from paint mist and splashes
Fine and precise colour jet, ideal for writing


Excellent adhesion to absorbent, non-absorbent and slightly moist surfaces.


Weather-resistant and frost-proof, usable and resistant even in damp and cold weather (down to -18°C)


High-quality pigmentation for excellent luminosity and opacity (clearly visible from a long distance)


Quick drying time


High abrasion resistance
Notice
Fresh soiling can be removed with thinner. Hardened marking paint can be removed with a high-pressure cleaner and a brush. The shelf life is 2 years.
Do not expose to temperatures above 50°C.
Protect from sunlight and other sources of heat and ignition.
As with all other storage and handling procedures, it is especially advisable not to smoke.
The usage instructions are recommendations based on the tests we have conducted and our experience; carry out your own tests before each application. Due to the large number of applications and storage and processing conditions, we do not assume any liability for a specific application result. Insofar as our free customer service provides technical information or acts as an advisory service, no responsibility is assumed by this service except where the advice or information given falls within the scope of our specified, contractually agreed service or the advisor was acting deliberately. We guarantee consistent quality of our products. We reserve the right to make technical changes and further develop products.
Application area
For temporary (up to 2-3 months) marking and labelling of paths and driving routes, road damage as well as the course of pipes and lines in the construction and surveying field. Can be used on tarmac, concrete, wood, stone, glass, metal etc. Good adhesion to absorbent, non-absorbent and slightly damp surfaces.
Instructions
Shake the spray can well upside down before using to ensure good mixing of the colour (the mixing balls should be heard). After use, spray the valve until empty (until only propellant comes out) to clean valve and diffuser. Can be applied to any type of surface, including damp surfaces. We recommend a spraying distance of approx. 10 cm to the surface to be marked for accurate and clear markings.
Select RAL-colour code
!! NOTE: On-screen visualisation of the colour differs from real colour shade!!