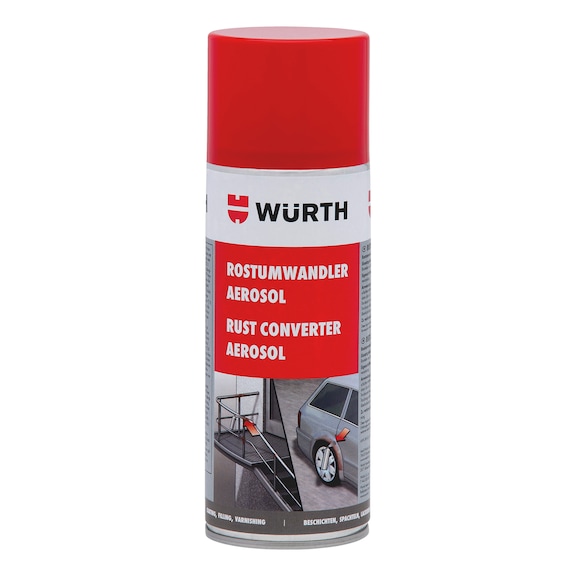 For detailed information, other images and documents, please select individual articles from the following table.
Corrosion protection paint with rust-conversion properties
Show availability in Würth Portugal trade store
In order to check the stock in a Würth Portugal branch,
please log in
.
If you have any questions, please call our service hotline at +351 211 989 840.
You are not yet a Würth Portugal customer or do not yet have access data to the Online Shop? Then
register now
in just a few steps. After a successful check of the entered data, you will have immediate access to the stock inquiry as well as all prices and can immediately order.
Exclusively for trade customers
Register now and access more than 15,100 products
Call customer service: +351 211 989 840
Exclusively for trade customers
Register now and access more than 15,100 products
Call customer service: +351 211 989 840
Prices for customers after login
Stops rust formation
Forms an iron complex that neutralises the rust layer
Ideal for difficult, rust-affected areas
Also protects in cracks and pores due to the high penetration depth
High-quality epoxy primer for reliable protective layer


Can be filled or painted over


Silicon-free and acid-free
Notice
Cures at room temperature. After use, turn the can upside down and spray until the valve is empty. Only 1-component products should be used when painting over.
This information is only a recommendation based on our experience. Preliminary testing is required. The information in the technical data sheet must be read prior to application. When painting over, we recommend that you only use 1-component products. The specifications of the coating manufacturer must be observed. Only for industrial users/specialists.
The usage instructions are recommendations based on the tests we have conducted and our experience; carry out your own tests before each application. Due to the large number of applications and storage and processing conditions, we do not assume any liability for a specific application result. Insofar as our free customer service provides technical information or acts as an advisory service, no responsibility is assumed by this service except where the advice or information given falls within the scope of our specified, contractually agreed service or the advisor was acting deliberately. We guarantee consistent quality of our products. We reserve the right to make technical changes and further develop products.
Application area
Rust converter spray neutralises the rusted layer and forms a metal-organic iron aggregate. The corrosion protection paint with rust-converting properties is ideal for repainting heavily rusted areas. For maintenance and long-lasting protection of vehicles, systems, machinery and components in all applications.
Instructions
Before spraying, remove loose rust, grease, dirt and coats of paint under which rust has formed. Clean the rust spot thoroughly. Shake the can vigorously, then spray on 2-3 thin layers (spray distance approx. 25-30 cm). Allow approx. 2 hours drying time between the individual layers. Apply a top coat once all the layers have dried completely.
Select RAL-colour code
!! NOTE: On-screen visualisation of the colour differs from real colour shade!!