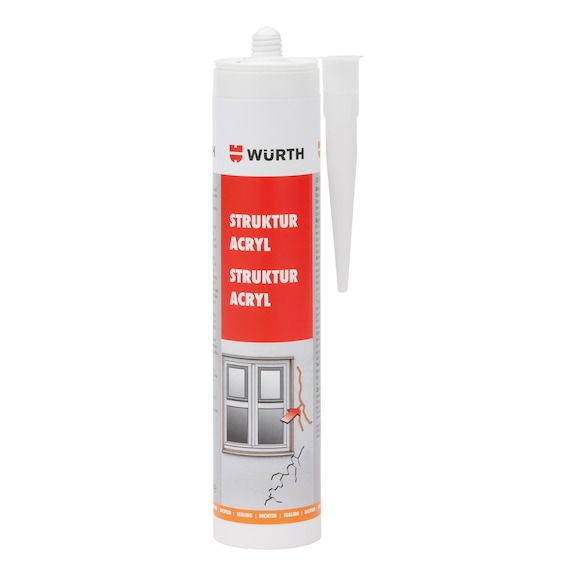 For detailed information, other images and documents, please select individual articles from the following table.
Particularly suitable for repairing cracks and damage in structured or textured plaster, both indoors and outdoors
Show availability in Würth Portugal trade store
In order to check the stock in a Würth Portugal branch,
please log in
.
If you have any questions, please call our service hotline at +351 211 989 840.
You are not yet a Würth Portugal customer or do not yet have access data to the Online Shop? Then
register now
in just a few steps. After a successful check of the entered data, you will have immediate access to the stock inquiry as well as all prices and can immediately order.
Exclusively for trade customers
Register now and access more than 15,100 products
Call customer service: +351 211 989 840

Exclusively for trade customers
Register now and access more than 15,100 products
Call customer service: +351 211 989 840
Prices for customers after login
Fine-grained structure
An even grain structure is produced by adding high-quality quartz sand.
Can be painted over with emulsion paints


Resistant to UV and ageing


Odourless
Notice
Not suitable for use in building construction joints in accordance with DIN 18540. Due to the wide variety of paint and lacquer formulas available, we recommend that you always carry out preliminary testing in order to rule out any interactions. Caution: Sealant joints that have been fully painted over tend to crack when movement occurs in the joint, as the applied paint is generally less elastic than the sealant. The setting speed is dependent on the application temperature, the weather and the surface moisture. The speed is greatly delayed in cold, damp weather. Discolouration may occur in wood containing tannic acid.
Tested in accordance with EN 15651 Part 1
Fire behaviour: Class E


Stability under load: ≤ 3 mm


Volume loss: ≤ 25%


Tensile behaviour after immersion in water at 23°C (ductile): ≥ 25%


Durability: Passed
The usage instructions are recommendations based on the tests we have conducted and our experience; carry out your own tests before each application. Due to the large number of applications and storage and processing conditions, we do not assume any liability for a specific application result. Insofar as our free customer service provides technical information or acts as an advisory service, no responsibility is assumed by this service except where the advice or information given falls within the scope of our specified, contractually agreed service or the advisor was acting deliberately. We guarantee consistent quality of our products. We reserve the right to make technical changes and further develop products.
Application area
Sealing cracks and damage to plaster, concrete and gypsum. Especially for sealing structured and textured plaster, both indoors and outdoors.
Instructions
Adhesion surfaces must be clean, dry and firm. Priming improves adhesion to porous and highly absorbent substrates. Please observe the "General Notes on Application for Sealants" overview sheet. For more information, please refer to the technical data sheet.
Select RAL-colour code
!! NOTE: On-screen visualisation of the colour differs from real colour shade!!