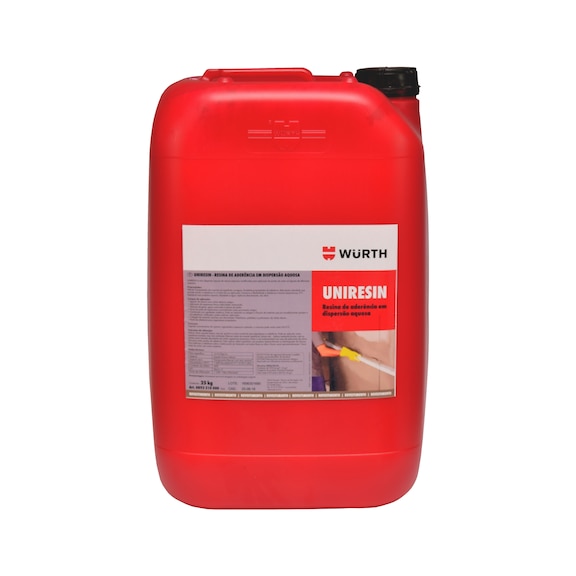 For detailed information, other images and documents, please select individual articles from the following table.
Aqueous dispersion of special resins modified for applying union bridges when joining different materials.
Show availability in Würth Portugal trade store
In order to check the stock in a Würth Portugal branch,
please log in
.
If you have any questions, please call our service hotline at +351 211 989 840.
You are not yet a Würth Portugal customer or do not yet have access data to the Online Shop? Then
register now
in just a few steps. After a successful check of the entered data, you will have immediate access to the stock inquiry as well as all prices and can immediately order.
Exclusively for trade customers
Register now and access more than 15,100 products
Call customer service: +351 211 989 840
Exclusively for trade customers
Register now and access more than 15,100 products
Call customer service: +351 211 989 840
Prices for customers after login
Transparent film, does not stain adjacent surfaces


Excellent adhesion properties


Slow reticulation allows for adhesion to be maintained after 3 to 4 days from application


Maintains flexibility and adhesion at low temperatures, 0ºC


Can be repainted with aqueous and solvent-based products


Water resistant


Apply directly, do not dilute
Depending on the characteristics of the support, finish and thickness applied, consumption can vary between 0.165 kg/m² – 0.125 kg/m². A 25 kg pack covers an application of 150 to 200 m².
This information is intended to provide the best practice advice possible, based on our knowledge and experience. We cannot accept responsibility for individual applications, due to its numerous applications and storage and application conditions that are beyond our control. This also applies when using the free technical and sales customer support we provide. We always recommend that you test the product first. We guarantee the consistent quality of our products. We reserve the right to make technical alterations and improvements. See the data sheet for more information.
Application area
New plaster connection over old plaster


Application of fresh mortar on hardened concrete


Plaster partitions, dry walling and concrete pillars


Self-levelling mortar union bridge over old floors


Combined with synthetic geotextiles


Can be applied to the sealing and fixing of materials that lose their adhesion due to ageing: glazed, artificial stone, placated and others


Bonding of solvent-sensitive materials: Polystyrene, polyethylene and open-cell polyurethane


Adhesive bridge for mortars designed
Instructions
Apply to surfaces that are clean and free from dust, grease and other materials that impair adhesion. Can be applied on damp surfaces, but not wet surfaces. Remove residue from surface cement, paint and other debris. Apply using a brush, roller or gun in an ample coat, but avoid excessive thickness. In the event of applications over multiple days, avoid hardening to prevent adhesion loss. Do not apply to surfaces with silicone removal products or water-repellents. Can be mixed with clean sand or silica to improve adhesion on concrete. Allow to dry for approximately 1 hour before joining with other materials.
Select RAL-colour code
!! NOTE: On-screen visualisation of the colour differs from real colour shade!!