Waterproofing resin ELASTEX Plus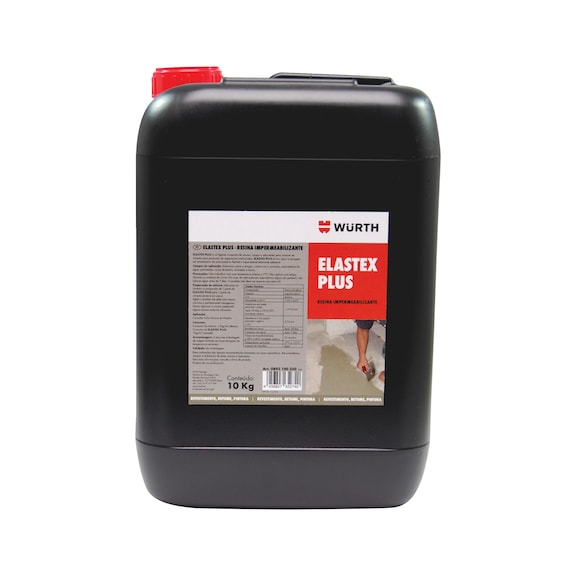 For detailed information, other images and documents, please select individual articles from the following table.
Waterproofing resin ELASTEX Plus
Additive for flexible and waterproof mortars.
Show availability in Würth Portugal trade store
In order to check the stock in a Würth Portugal branch,
please log in
.
If you have any questions, please call our service hotline at +351 211 989 840.
You are not yet a Würth Portugal customer or do not yet have access data to the Online Shop? Then
register now
in just a few steps. After a successful check of the entered data, you will have immediate access to the stock inquiry as well as all prices and can immediately order.
Exclusively for trade customers
Register now and access more than 15,100 products
Call customer service: +351 211 989 840
Exclusively for trade customers
Register now and access more than 15,100 products
Call customer service: +351 211 989 840
Prices for customers after login
Binder comprised of resins, aggregates and adjuvants to mix with cement for production of improved mortars. Once dry, it forms a flexible and impermeable sealing coat that is highly adherent.
Notice
Do not work at a temperature below 7ºC or apply in rainy weather or when there is a chance it may rain.


For application in reservoirs, do not fill with water for 7 days


The product must not be exposed to UV rays. A final finish must be used.


Not passable
Mixture consumption 1.5 kg/m²/coat
This information is a recommendation only, based on our experience. However, we cannot accept responsibility for individual results with this product, due to its numerous potential applications, and storage and application conditions that are beyond our control. We always recommend that you test the product first. We guarantee the quality of our products. We reserve the right to make technical alterations and developments.
Application area
Old and new masonry


Roofs and balconies


Non-potable water reservoirs


Floors


Bathrooms


Façade constructions and walls
Instructions
Surfaces should be thoroughly dry, cohesive and free from cracks, loose sand, grease and contaminants. Mix the product until a smooth and perfectly consistent paste is obtained. Mix 1:1 by volume Elastex and Portland cement. Add as little water as possible.
For horizontal surfaces, apply 2 coats using a toothed spatula and apply a fibreglass mesh between the first and second coats. Recommended total thickness of 3 mm (estimated consumption of 2.1 L/m2). For roller applications, the coat yield is 6–8 m2/L and a minimum of 3 coats should be applied. For surfaces that are difficult to bond to, apply 1 coat of a 1:2 solution in volume (Elastex: water) beforehand. Before drying, follow the application diagram shown.
Select RAL-colour code
!! NOTE: On-screen visualisation of the colour differs from real colour shade!!