Water-based impregnation HDR 20P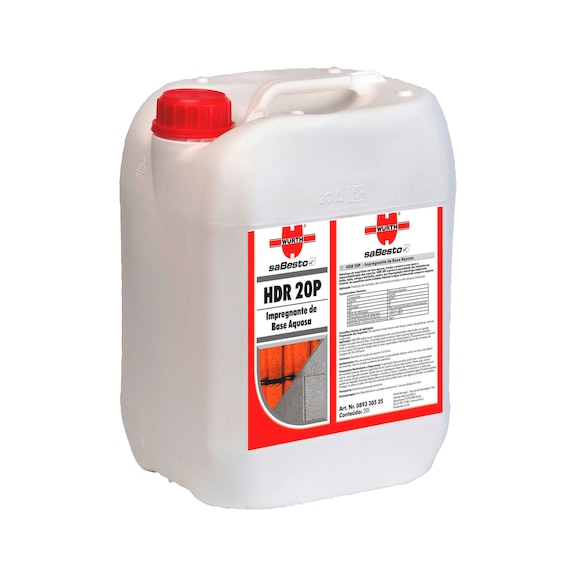 For detailed information, other images and documents, please select individual articles from the following table.
Water-based impregnation HDR 20P
Water-based waterproofing and water-repellent solution.
Show availability in Würth Portugal trade store
In order to check the stock in a Würth Portugal branch,
please log in
.
If you have any questions, please call our service hotline at +351 211 989 840.
You are not yet a Würth Portugal customer or do not yet have access data to the Online Shop? Then
register now
in just a few steps. After a successful check of the entered data, you will have immediate access to the stock inquiry as well as all prices and can immediately order.
Exclusively for trade customers
Register now and access more than 15,100 products
Call customer service: +351 211 989 840
Exclusively for trade customers
Register now and access more than 15,100 products
Call customer service: +351 211 989 840
Prices for customers after login
HDR 20P impregnation is a colourless, ready-to-use water-based surface waterproofing coating, for waterproofing porous mineral supports
Colourless


Does not affect the colour of treated surfaces, maintaining their natural appearance


Water-based product


Can be applied indoors and outdoors without harming the environment or posing a risk of poisoning through inhalation for the user


Allows natural breathing of treated surfaces


Resistant to alkalinity and UV rays


Ready to use
Notice
Application of this product may lead to white spots appearing on dark and low-absorbent surfaces. In this case, never apply a second layer. Properly close the packaging after use (the product becomes cloudy due to the action of carbon dioxide). To protect lead, zinc, tin, aluminium and glass that may be affected. Any splashes should be washed immediately with plenty of water. Alkaline product. Protect eyes and skin. If contact with the eyes occurs, wash with water and seek medical help.
Consumption varies depending on support: 5 m²/Litre
This information is intended to provide the best practice advice possible, based on our knowledge and experience. However, we are unable to provide a comprehensive list of all potential outcomes, due to the numerous applications of the product and storage and application conditions that are beyond our control. This is also true for queries made to our customer service department. We recommend that you always carry out your own tests. We guarantee the continued quality of our products. We reserve the right to make technical alterations and improvements to the product.
Application area
Suitable for indoor and outdoor use


Protection of façade constructions (concrete elements, natural stone, brick tile and hydraulic stucco)


Restoration of buildings and monuments made from natural stone


Impregnation of porous ceramic tile, on roofs


Waterproofing of hydraulic stucco in interiors
Select RAL-colour code
!! NOTE: On-screen visualisation of the colour differs from real colour shade!!