Repellent oil for ceramics and stone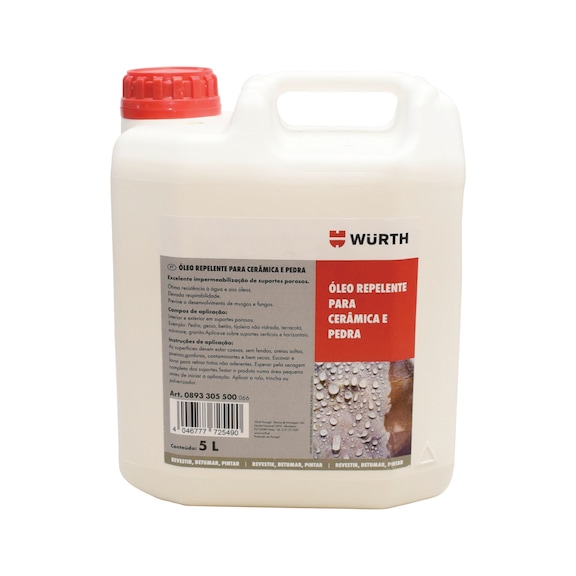 For detailed information, other images and documents, please select individual articles from the following table.
Repellent oil for ceramics and stone
Water-based repellent oil and waterproofing solution for porous surfaces.
Show availability in Würth Portugal trade store
In order to check the stock in a Würth Portugal branch,
please log in
.
If you have any questions, please call our service hotline at +351 211 989 840.
You are not yet a Würth Portugal customer or do not yet have access data to the Online Shop? Then
register now
in just a few steps. After a successful check of the entered data, you will have immediate access to the stock inquiry as well as all prices and can immediately order.
Exclusively for trade customers
Register now and access more than 15,100 products
Call customer service: +351 211 989 840
Exclusively for trade customers
Register now and access more than 15,100 products
Call customer service: +351 211 989 840
Prices for customers after login
Colourless product
Always allows you to see the substrate.
Natural look
Does not affect the colour of the treated surfaces.
Excellent waterproofing
On porous supports.
Excellent resistance
To water and oils. Prevents the development of mosses and fungi.
Highly breathable
Resistant to alkalinity and UV rays
Ready to apply
This information is intended to provide the best practice advice possible, based on our knowledge and experience. We cannot assume any liability for individual applications due to the variety of applications and storage and application conditions that are beyond our control. This also applies when using the free technical and sales customer support we provide. We always recommend that you test the product first. We guarantee the consistent quality of our products. We reserve the right to make technical alterations and improvements. See the product data sheet for more information.
Application area
Indoor and outdoor application on porous supports such as: stone, plaster, concrete, tile, marble, terracotta and granite.


Application on horizontal and vertical supports.


Ideal for application on surfaces subject to automotive traffic and places where oils and greases are likely to be present.
Instructions
Surfaces should be cohesive and thoroughly dry, free from cracks, loose sand, dust, grease or contaminants. Brush and clean to remove flaking paint. Wait for the supports to dry completely. Test the product in a small area before starting the application. Apply by roller or brush. Any splashes should be washed immediately with plenty of water. Protect eyes and skin. If contact with the eyes occurs, wash with water and seek medical help.
Select RAL-colour code
!! NOTE: On-screen visualisation of the colour differs from real colour shade!!